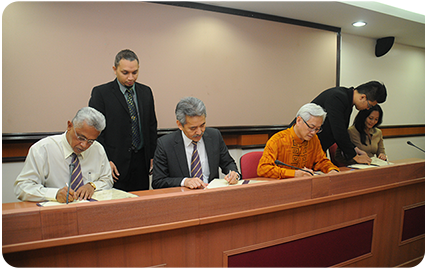 On the 22nd of December 2014, LHoL signed a Memorandum of Agreement to work with Universiti Sains Malaysia (USM), a renowned state university in Malaysia with one of the largest enrolment numbers in the country in its three main campuses.
This collaboration sees LHoL and USM participating in joint English language programmes for children and working adults.
The event was graced by the Vice-Chancellor of USM, Y.Bhg. Professor Dato' Dr. Omar Osman, Deputy Vice-Chancellor Y.Bhg. Professor Dato' Ahmad Sukri Mustafa Kamal and Dean, School of Educational Studies Y.Bhg. Professor Dato' Dr. Abdul Rashid Mohamed. The signing ceremony was indeed an auspicious event for LHoL as the centre sees great opportunities with USM in developing new hybrydization of English Language programmes to be available for all age groups.
The signing ceremony was held at the School of Education Studies, Idris Babjee Conference Room, Universiti Sains Malaysia Penang. LHoL's Chairman, Mr. Chew Why Hoong and Executive Director, Ms. Sonia Ong signed and witnessed the MOA.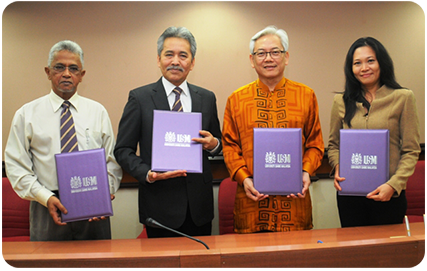 From left to right: Y.Bhg. Professor Dato' Dr. Abdul Rashid Mohamed, Y.Bhg. Professor Dato' Dr. Omar Osman, Mr. Chew Why Hoong, Ms. Sonia Ong